We had anticipated a rainy week of camping and hiking, and were fortunate to get our camp set up before the rains came. This occasion was our annual Smokies hiking trip for Mike, Jim, and me. We found the site for our base camp at Deep Creek Campground in GSMNP to be fairly empty, and a fine place to start on several loop hikes directly from our camp.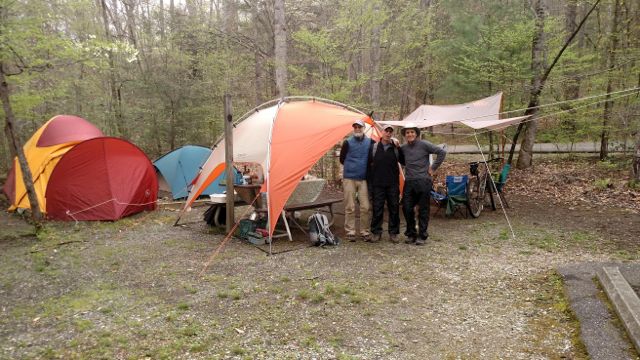 We did not let the rain stop us from daily hikes in full rain gear. We received contacts from friends and family about our conditions, since other places were receiving higher rainfall accumulations than we did. We reflected during the week of mostly rain that we had been fortunate on our previous Smokies trips to avoid periods of rain.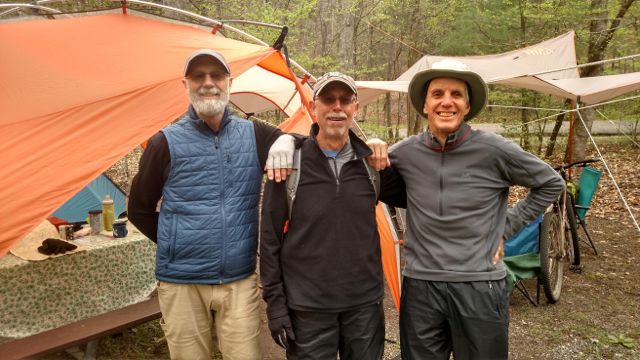 After several days of rainy hikes from our camp, Wednesday would prove to be different. The plan was for a straight point A to point B hike, driving to the trailhead at point A, and walking back to our camp. The Noland Divide Trail trailhead was on the Clingman's Dome Road. We also were going to be joined by a friend of Mike's, and would meet him at the parking lot at Clingman's Dome. We heard Joel was a trail runner, so there were no concerns about him keeping up on this twelve mile hike. An array of stickers on the bumper of his Camry further reinforced his endurance credentials, including "13.1" and "140.6". There were patches of blue sky as we started out on our drive up the mountains to a high elevation trailhead. The clouds closed in again before we arrived at Newfound Gap and our left turn on to Clingman's Dome Road. The visibility continued to diminish until we achieved the state of being "socked in", but we were able to pick out the trailhead and small parking area a couple miles from the main parking area at Clingman's Dome. There were other cars there, and we met up with Joel. With no visibility there was no need to go up to the observation tower. I chatted briefly with another hiker.
Hiker: Are you all getting on the Trail? ["Trail" clearly meant Appalachian Trail (AT)].
Bob: We are getting on another trail – the Noland Divide Trail.
Hiker: We took a zero day yesterday, but we need to get back on the Trail (AT) since we have an eight day thru-hiker reservation for the Park."
While we both were hiking by choice, there was more pressure for his hike to begin again after taking off the previous day. Driving to our trailhead, rain gear was in order, and with our last temperature reading at 39 degrees, layers and gloves were part of our kit.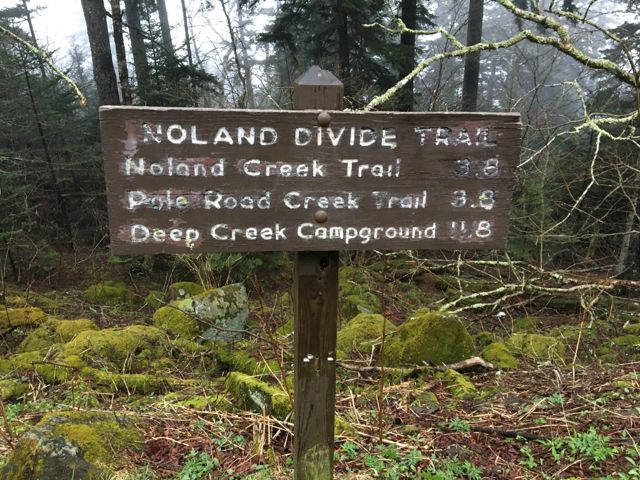 Joel was not only physically well prepared but also had an extra set of gloves for Jim who forgot his pair. Jim, Mike and I all used a pair of trekking poles; Joel sported a single walking stick. It was not any old stick, but one he had acquired on a Nepalese trek from the 1970's. A Nepalese youth had made it for him along the way, and it was a valued and well used artifact from his adventures in Nepal.
I was very excited at the onset, much like getting ready for setting sail in stormy weather. While the rain was just light, it seemed the cloud we occupied was dripping everywhere. The watery atmosphere was conducive for this alpine ecosystem – spruce and fir forest. What were very lush were the moss communities, clinging to rocks and logs. It was too wet to bring out my camera to attempt photos of these beautiful green life-forms; the variety and displays were breathtaking.
We anticipated seeing few people on the trail, and an elevation descent of almost 3,000 feet. We also hoped to walk out of the clouds to clearing skies on the way down this single track trail.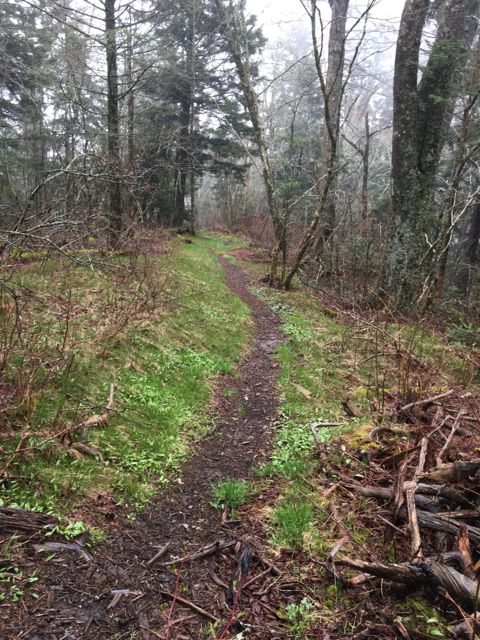 After several miles we left the spruce fir forest, and further down we left the cloud atmosphere of the upper elevations. The clearing was spotty, but finally we achieved a full clearing giving us the confidence to remove rain gear, gloves, and a layer prior to arriving at a trail crossing at Upper Sassafras Gap.
This junction would be the only trail crossing on the Noland Divide Trail until we arrived below at Deep Creek Campground; this gap also gave us an accurate read on our distance traveled – 3.7 miles; our total to reach our base camp would be around 12 miles. The cleared skies and ridge trail opened to us spectacular views through the mainly leafless trees to the famous Smokies vistas.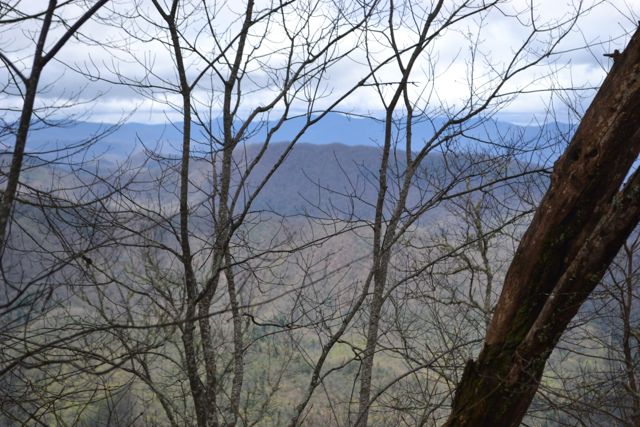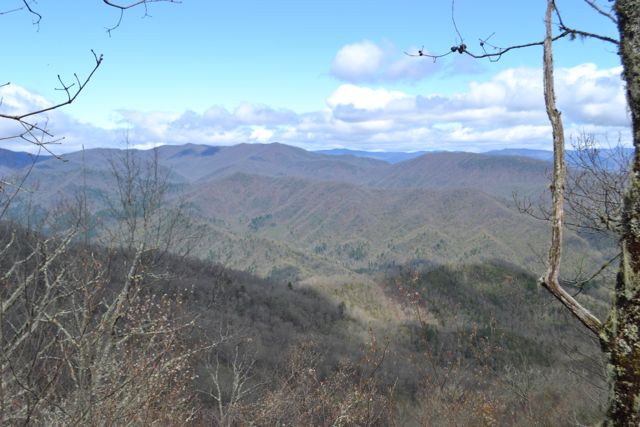 On reflection the Noland DivideTrail trailhead on Clingman's Dome Road was the start of a 1973 backpacking trip I made with friend Alan Held. It was a different time: no reservations were required for backcountry campsites, and I would say I was completely naive of bears (and none were seen). I don't remember any campsite precautions taken for our food, but since Alan had done a lot of camping out west he may have taken care of this task. I remembered we only saw one person in the backcountry during the three day trip. He appeared to be a lost soul. His provisions included cans of food carried in a duffel, and each day he would plan out his meals by pulling three cans of food out. We were happy to share our dinner one night with him. It was October camping, and fairly cold at night. Alan did not have a warm sleeping bag, but he used an effective technique. He would take a heated rock from the campfire ring, put it in a spare bag, and place it in the bottom of his sleeping bag each night.
Elevation descent creates its own physical toll. I had taken precautions with stretching prior to the hike and on the trail, but was not prepared for the assault on my right foot. The last miles continued to descend at a steeper grade, and I pushed ahead despite feeling my feet pushing forward in my shoes. They were well broken-in shoes, and I had never experienced even the beginning of a blister. This was not the case on this day, discovering back at the campsite a fresh, raw, and stinging blister. Foot problems are an occupational hazard of the hiker, and I was upset with how this would effect further hikes in the week. I secured from our kits and a Bryson City pharmacy moleskin and tape, resolving to protect further abrasion to my foot, but also to continue hiking and allow the necessary healing after returning home.
That morning, just several miles from where we left our cars, another car went off the road, and down the mountainside about forty feet. We heard later that the road was closed for several hours as emergency crews responded. The driver, the only occupant of the car, was killed in the crash. It was the first fatality of the year for GSMNP. When we went back that evening to collect our parked cars, we were back in the clouds again, in a considerably colder environment than at Deep Creek. The tragedy hung in the misty air as we navigated the shrouded mountain roads.
We went on a shorter hike the next day accessed from our camp. We took a side trail only identified as "Graveyard", and it was a steeper and longer trail then anticipated. The graveyard had three stones, all members of the Wiggins family.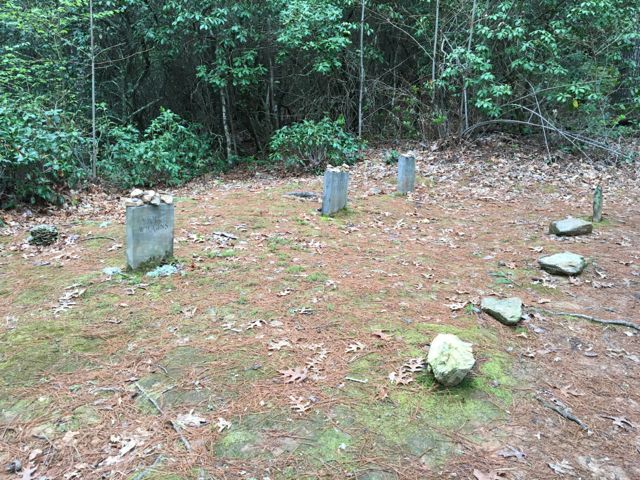 Graveyards like this are scattered throughout the Park, reminders of previous residents who worked out a living in the Smokies. The rains arrived again, and JIm and I shortened our loop, while Mike and Joel continued on. I was in protection and assessment mode with regards to my foot, hoping to be able to make a more challenging hike the last day of our week of hiking. Later in the day, in Bryson City, Jim and I found our way to another graveyard, and in the rain located the grave of the noted Horace Kephart.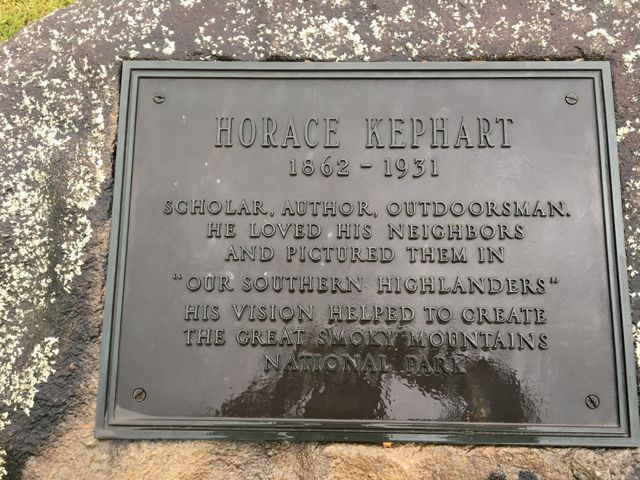 At the visitor center in Bryson City, we had seen a photo of him being given the uncommon honor of having a mountain named for him in the Smokies. Kephart was killed a few weeks later while driving on the quest for acquiring moonshine.
We took a drive up the mountain on our last full day for the Newton Bald Trail trailhead off Hwy 441, the Newfound Gap Road. This location was right across from the entrance to Smokemont Campground, where my family had started our annual camping trips to the Smokies. We had left a car down the road at the parking lot to Mingus Mill, the location of the end of our hike coming out on the Mingus Creek Trail. The Newton Bald Trail was part of a much longer Appalachian mountains trail, named for Benton MacKaye, the visionary behind the creation of the Appalachian Trail. The BMT is a three hundred mile trail starting in Springer Mountain, GA, but taking a different route than the AT through GSMNP, and ending at Big Creek Campground at the eastern end of the Park. In looking over the GSMNP map, I had been on segments of this trail over the years; during this week, we encountered it crossing over the Noland Divide Trail at Upper Sassafras Gap, and on an earlier loop hike at Martin's Gap. MacKaye advocated for wilderness, and helped found the Wilderness Society. The philosophy underpining the Appalachian Trail suggested the amelioration of the negative consequences of modern life.
I was satisfied in the first mile up the trail that my foot precautions would serve for the ten mile hike we had planned. As we gained elevation we found views to the Oconaluftee Valley and the Newfound Gap Road. On later reflection I realized it was a two hundred foot section of this US highway that in January of 2012 gave way in a massive mudslide and settled in the Oconaluftee River, this road section lying between Smokemont and the Collins Creek Picnic Area, within our view. The devastation to this and other areas of the Park resulted from eleven inches of rain in a four day period. That rain event put in perspective our ongoing rain this week. Rainfall is essential for the health of the Smokies and its ecosystems, and a main force in the wearing away of the mountains and carving valleys. The fine wildflower bloom seen throughout our hiking was one of our bonuses from the rains.
Arriving at Newton Bald was unlike our visit to Gregory Bald the previous year. LIke many former balds in the Park, Newton is a bald only in name – it has a forest cover. GSMNP management has been involved in only maintaining two of the balds in their "baldness" – Gregory and Andrews balds. We stopped for lunch on the trail here, and oriented to landmarks like Clingmans's Dome with map and compass. At a trail junction we turned south on Mingus Creek Trail that would take us back to our vehicle at Mingus Mill. This trail was also part of a much longer trail system: the Mountains-to-Sea Trail (MST). I had come to know well a portion of the MST on my stays in Durham, NC. A section of the MST parallels the Eno River, and one segment has received protection as a nature preserve: Penny's Bend, northeast of Durham.
On these backcountry trails, we had yet to see another person. I came to realize that this trail to Mingus Mill is where my friend Alan and I came out on our 1973 backpacking trip. And since that October trip was during the peak of leaf changes, it was a shock when we arrived at the crowded Mingus Mill parking lot where the fall attraction had brought out many "leafers"; I remembered giggling with the sudden contact with humanity. We finally ran into one person on our walk out Mingus Creek Trail, and someone we recognized. On one of our loop hikes in the rain at Deep Creek, as we came back toward our camp we saw a couple of trailrunners coming our way, and a deer charge across the trail in front of them. We chatted with one, and as he resumed his run he left us with the call "Happy Trails!" So as we recognized him going up Mingus Mill Trail, I greeted him with "Heh it's Happy Trails". Although he did not have the physique of a prototypic trailrunner, his trail plan was impressive, and would cover many miles. As he left us he sung some verses from, of course, Happy Trails.
Our trail ended soon at the Mingus Mill parking lot. It was a quiet Friday afternoon, before the full bore of the summer season and visitor peaks. We said goodbye to Joel, who headed back to his home in Swannanoa. Even though we headed back to our Deep Creek camp, our time on the trail, a main rationale for our annual reunion, was at an end. Our return to Deep Creek on this Friday afternoon we found many new neighbors in the campground as the weekend started. We had enjoyed the quiet of the time between the weekends, but that was over. The waters of Deep Creek were soothing for a full plunge and removal of trail grime. I anticipated a return to these waters and trails in the near future.