Out on the road in Monmouth County (NJ), my father and I made the familiar trip into Red Bank and Marine Park on the Navesink River, my ancestral waters. My life began there
– learning to sail, boat, and waterski; fishing for snappers and crabbing; and teaching sailing out of the Monmouth Boat Club.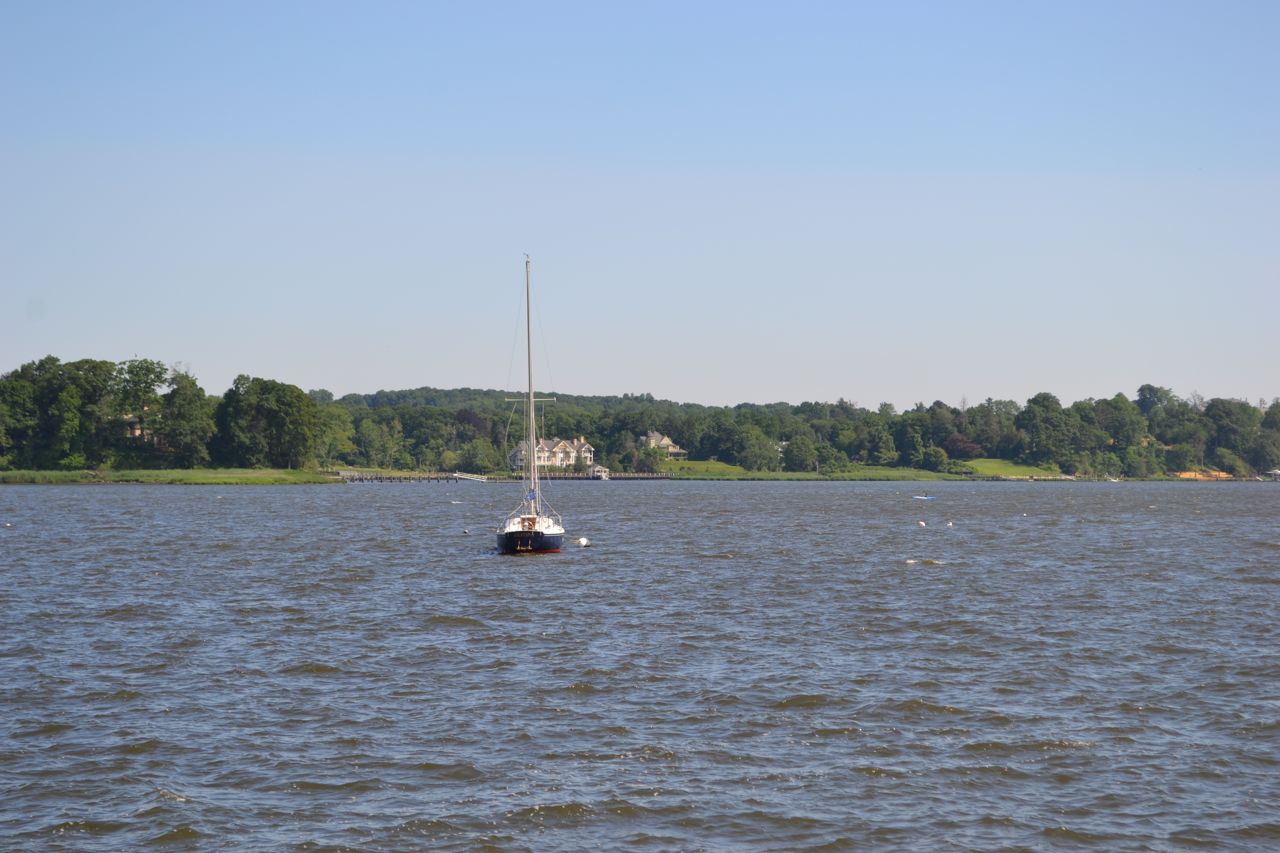 And then there was the Molly Pitcher, a place where my parents had their wedding reception in 1945, and our family had a luncheon after the graveside service for my mother in 2011.
(Molly Pitcher is just left of center.)
From the river Chuck (grandchildren's name for my father) and I headed up to the highest point on the coastal eastern seaboard south of Maine, Mount Mitchill Scenic Overlook. The weather had cleared after a day of rain, and the front had provided for clear skies and great visibility for the views to Manhattan and far out on Long Island, though not as far as my father's home as a child in Westhampton Beach.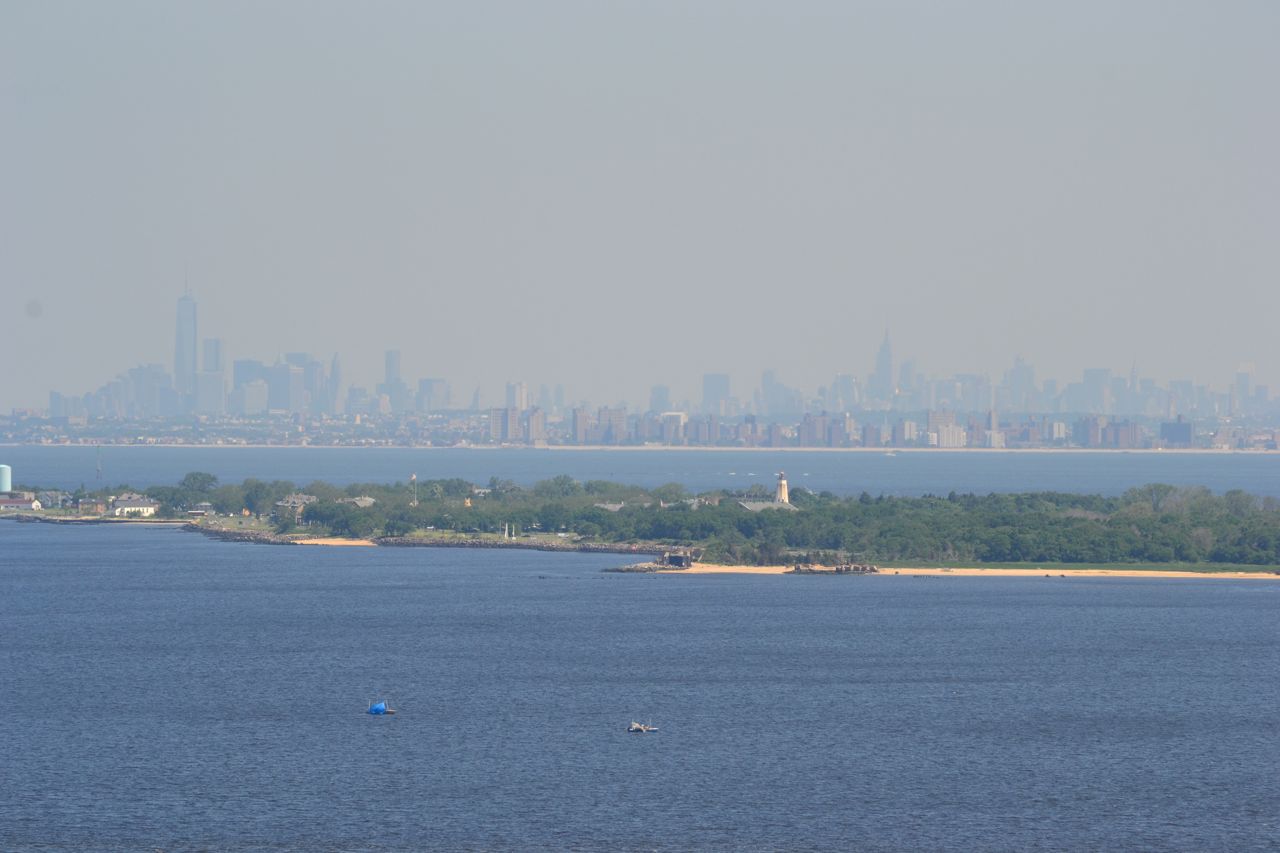 My father's status had declined since my last visit, and he had made the move to assisted living; he now required a wheelchair to get around. We discovered on the first day that he could transfer without problem and minimal assistance to my Tacoma. So we were getting out every day: the destinations included an accessible beach boardwalk at Ocean Grove for breakfast, and dinner out here and there. The accessibility of the Mount Mitchill park was excellent, and allowed for us to enjoy those distant views. Closer to us below was the Sandy Hook Bay and peninsula, Spermaceti Cove, the New York entrance waterway, and the Atlantic Ocean.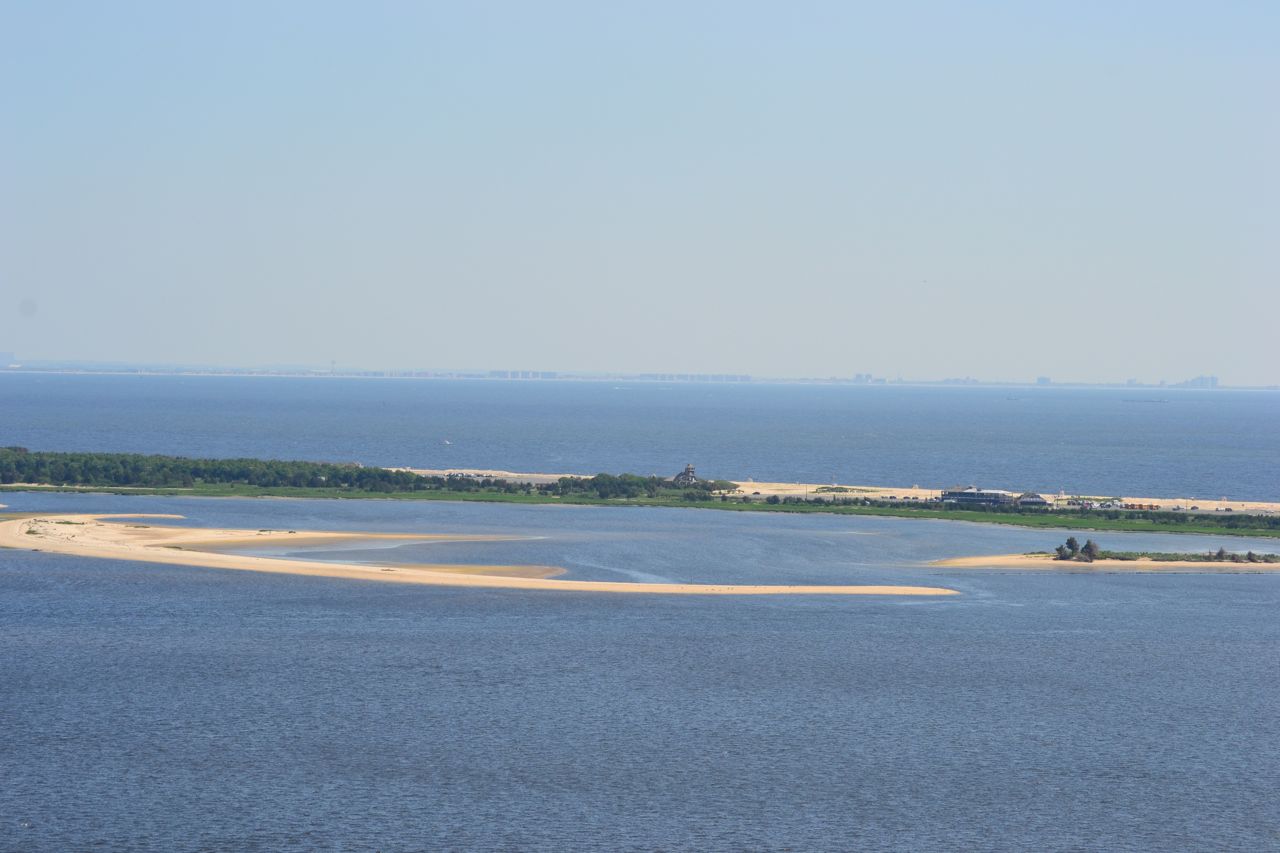 Chuck had fished these waters for years, and was a specialist in going after fluke (local species of flatfish) in his trusty old bowrider Flounderer. The historic buildings and structures on Sandy Hook stood out from our perspective, and we recalled our visits to the Spermaceti Cove Life-saving Station (Visitor Center) and the Sandy Hook Lighthouse. I also remembered exploring the natural history in 2012 (see Around Sandy Hook). Hurricane Sandy had wreaked havoc at Sandy Hook, and this component of the National Park System had been closed after the storm until May 1. With our new found accessibility and my father's revitalized energy for these excursions, we decided to embark on a half-day visit to Sandy Hook on the last day of my visit, Friday.
Our drive to Sandy Hook was without traffic: the weekend would be a different story. On my drive to pick up Chuck I stumbled on the fact that the day marked the summer solstice, an event usually prominent in my consciousness. We grabbed Dunkin Doughnuts and coffee on the fly, and drove the coastal route through Long Branch, Monmouth Beach, Seabright, and finally entered Sandy Hook. At the entrance I asked about the most accessible beaches, and got some but not full information. We stopped at one of the beach parking lots right before the Visitor Center, which was still closed after Hurricane Sandy. I looked for an accessible beach access but was disappointed to find none; likewise with the boardwalk access to Spermaceti Cove which was closed post Sandy. So we pulled up in a corner of the large and very open parking lot for our breakfast. A pair of oystercatchers whooshed by, bringing a smile to my face. Overhead an osprey cruised with a fish in its talons, heading from a successful catch in the ocean, and back to its nest along Spermaceti Cove. I recalled the structure built to accommodate osprey nests, and later observed a pair caring for a young bird, the nest framed by the Highlands where only two days before we had visited.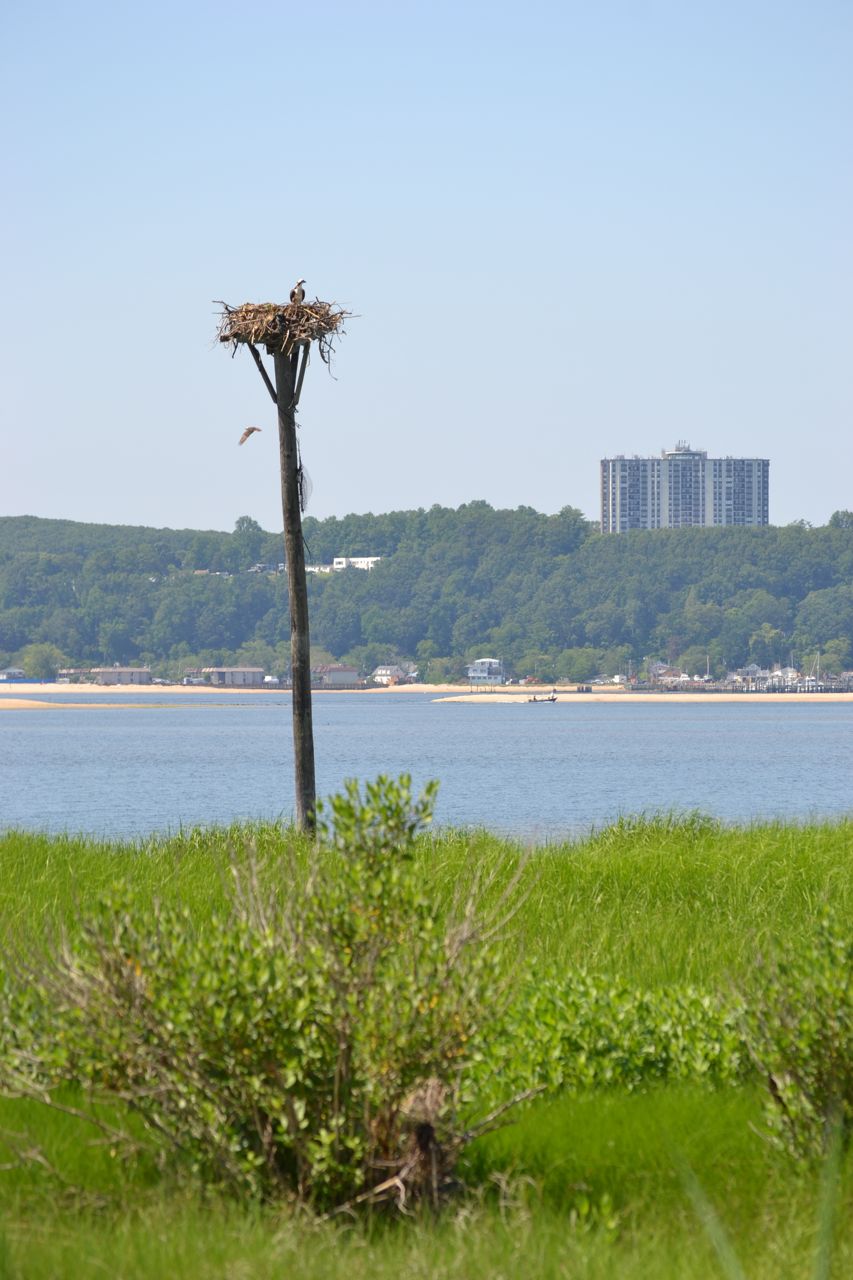 After breakfast we headed on, and stopped at the next beach to find the accessibility I had been searching for. Furthermore, there was a raised platform providing an excellent view of the beach and surrounds. Despite a somewhat steep ramp we were able to negotiate the climb and return without incident, though later realizing the platform was placed there for the Wednesday night concert series. Beach goers had already arrived, and everything about the setting and weather exuded idyllic.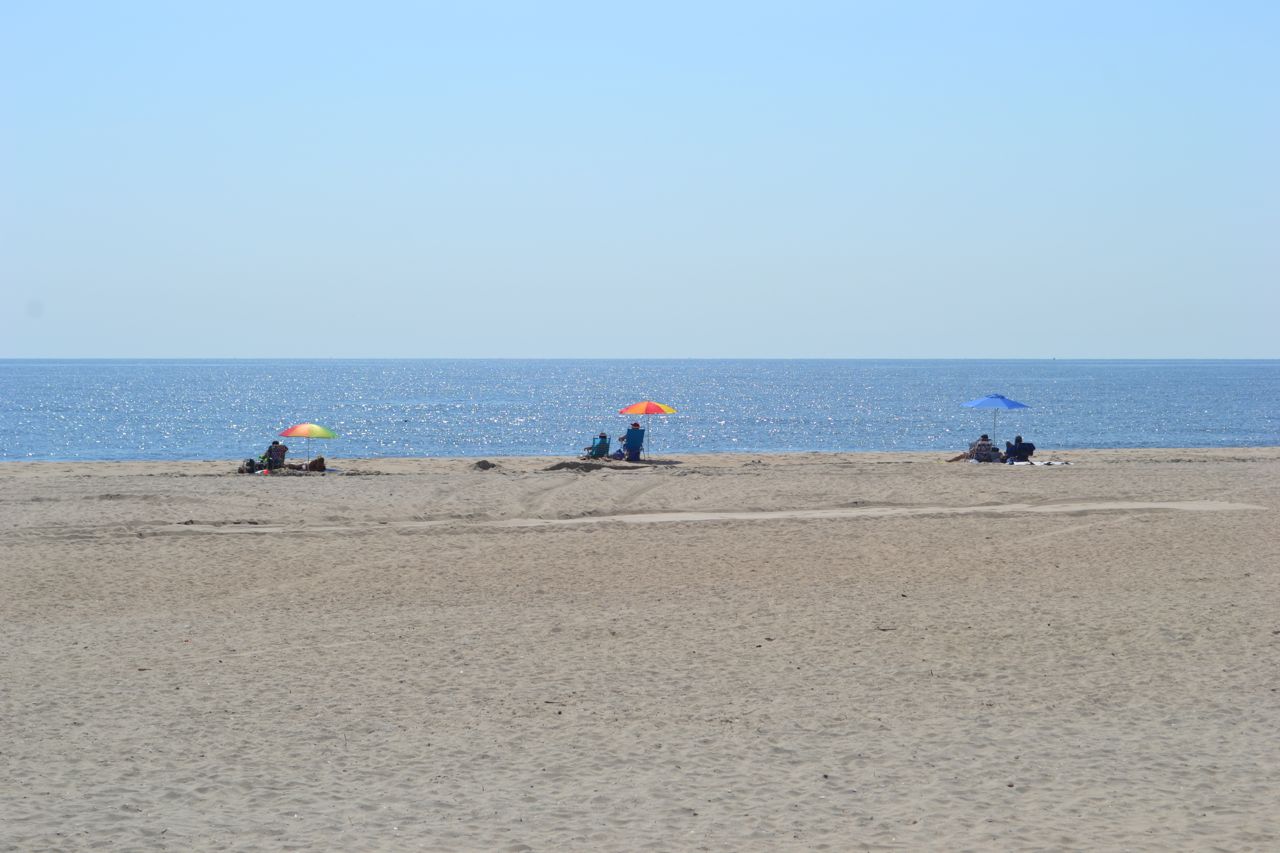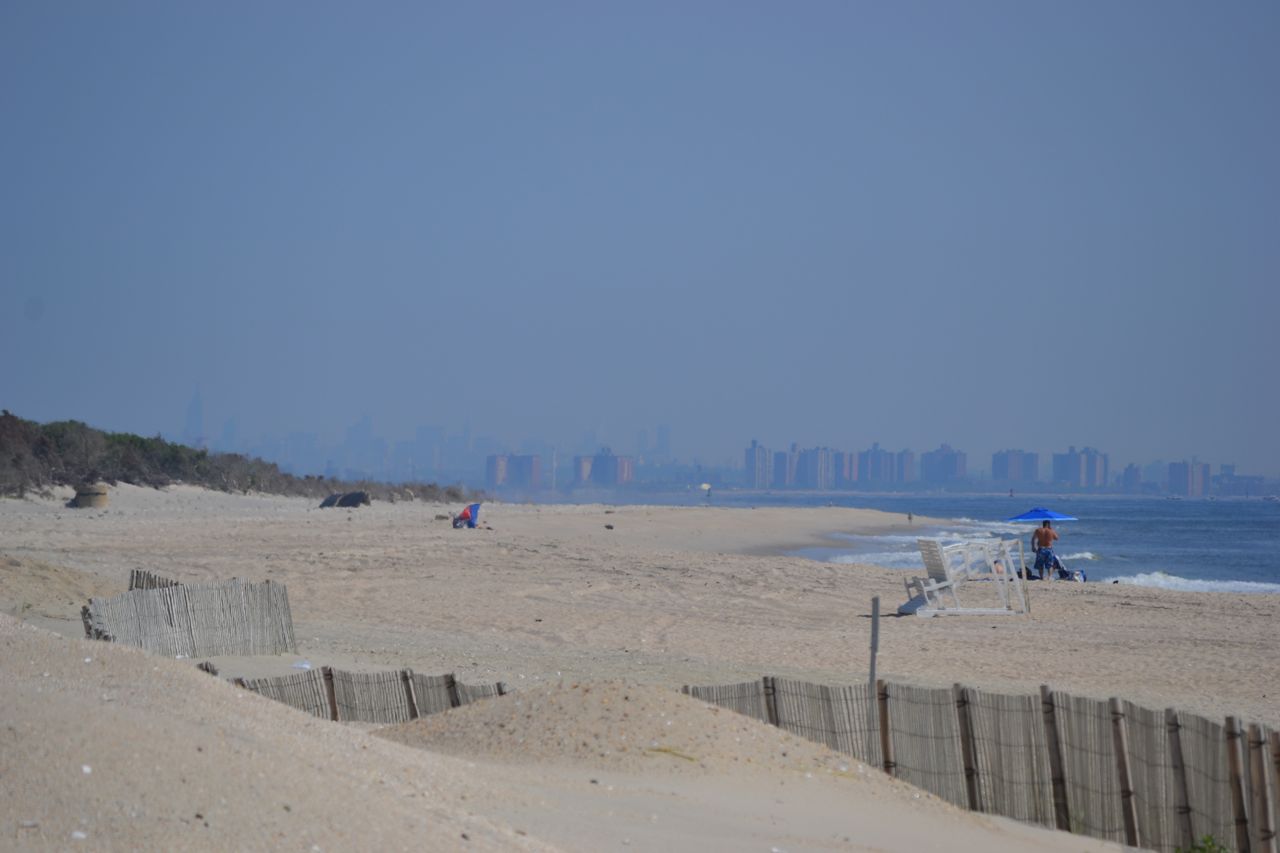 We lingered on this perch on this longest day of the year.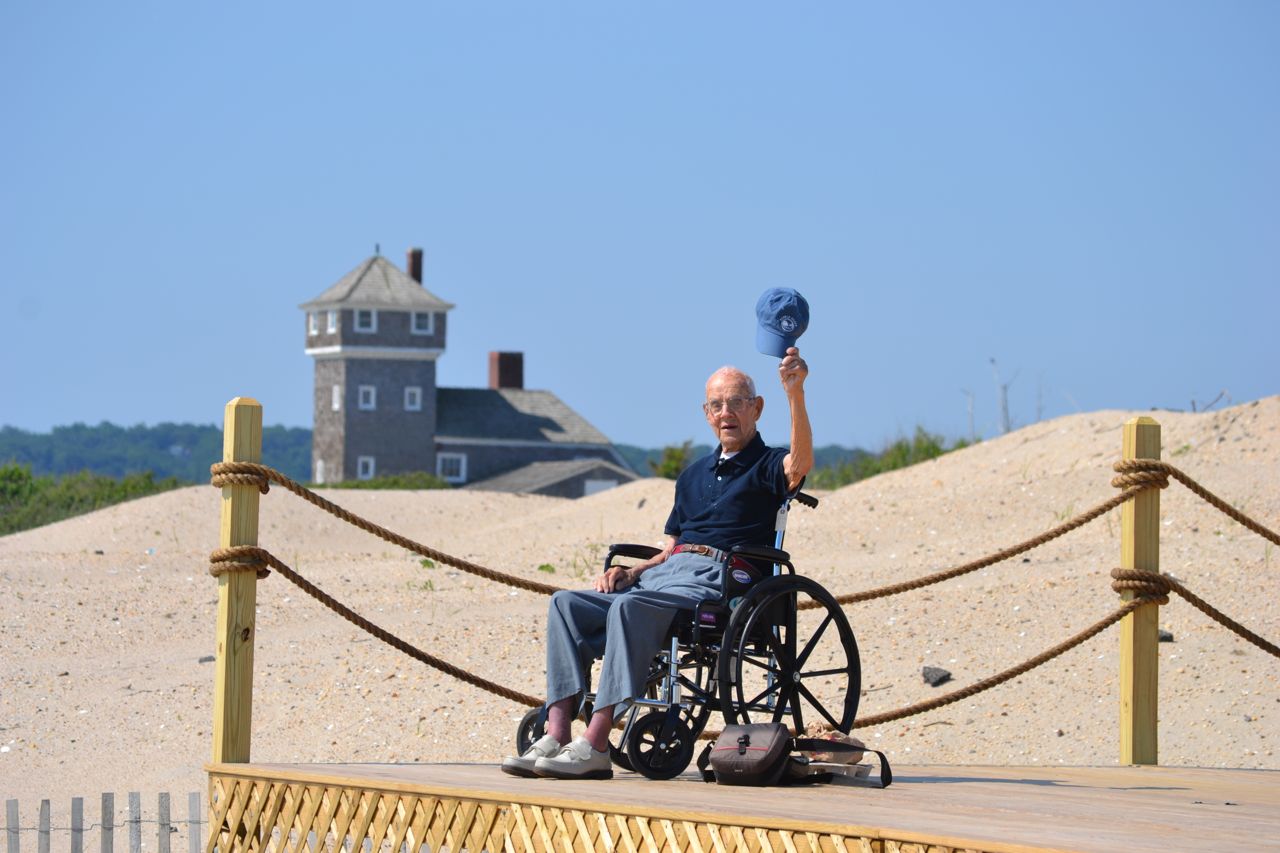 From here we drove north, exploring the Hook via the road system. There appeared to be as many bicycles as cars on the road. Sandy Hook has an array of historic structures from the various military facilities built here during the country's history, and we passed by the main area at Fort Hancock, the location of the lighthouse first lit in 1764.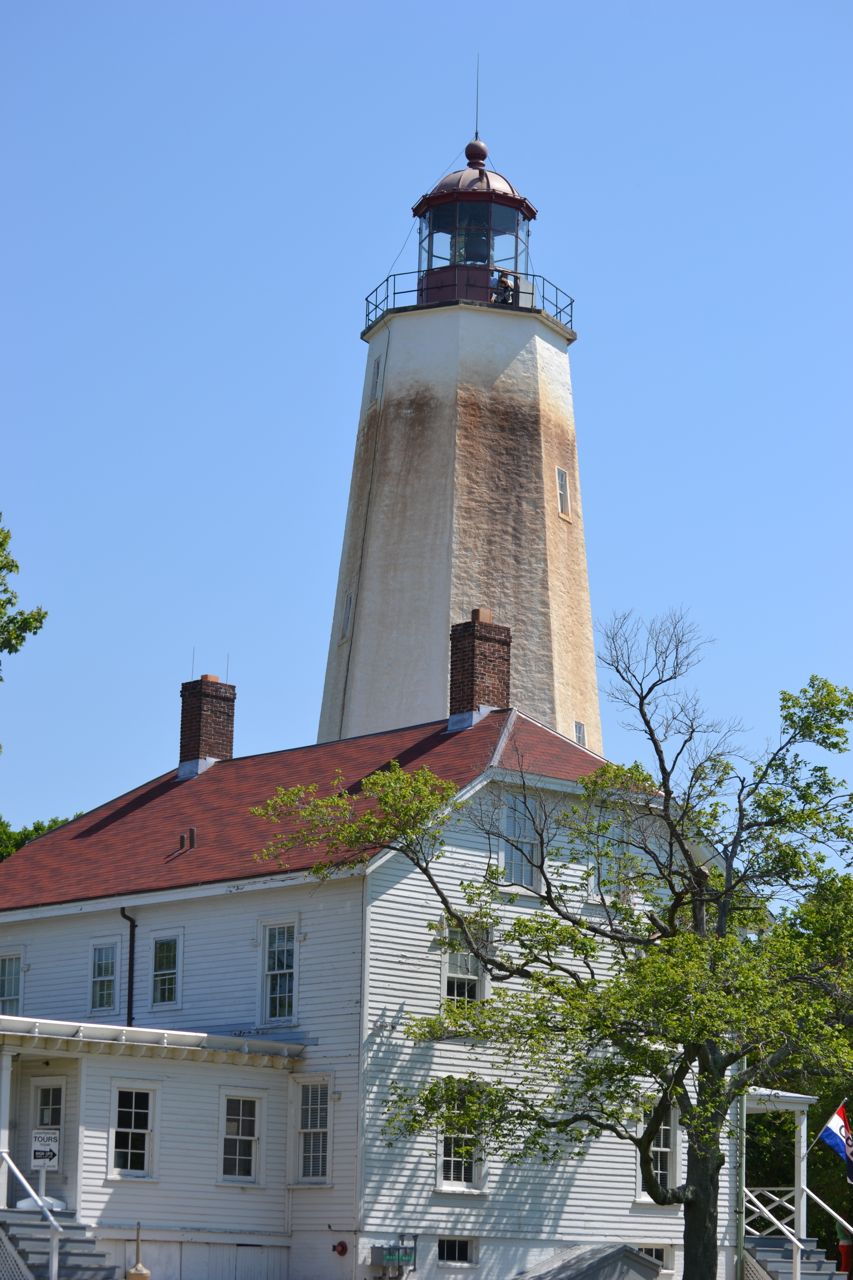 After driving as far north as possible, we headed back, taking the roads closest to the bay side of the peninsula. We came to the entrance to the Coast Guard station, and the day's focus shifted.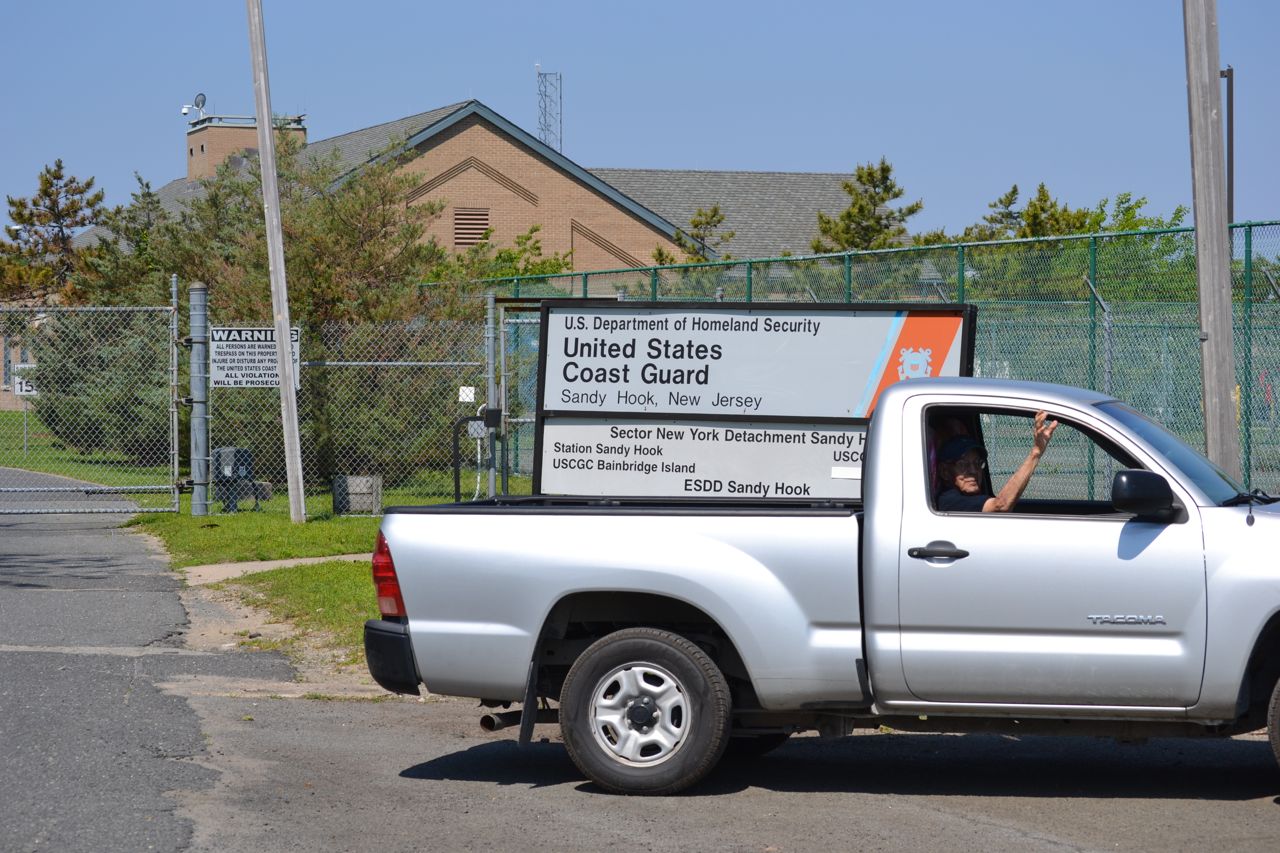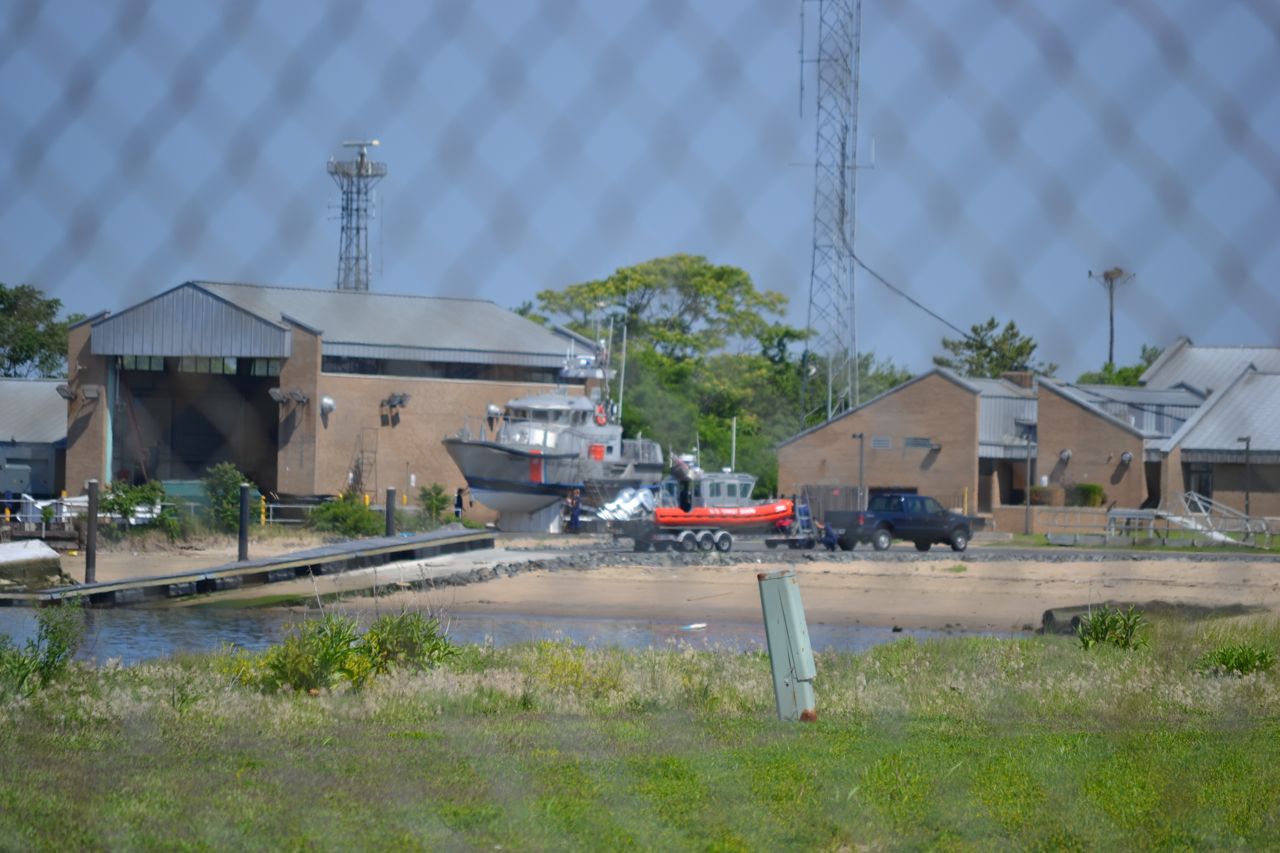 Chuck recalled on Thanksgiving of 1942 that he was the chief officer (lieutenant) on board an eighty-three foot vessel that left here for a cruise to Shinnecock Inlet to check on the sea buoy, returning the same day. It was the first I had heard of this experience, and I began to ask a range of questions, continuing throughout our dinner out that night. I had been aware of my father's WWII service in the Coast Guard, but for various reasons (did not see "action", in Coast Guard, lack of interest, etc) had never sought to find out all I could. I remembered some stories, but this was new. Though my father's recent memory had some holes (I have a few of those too), he was able to recall quite a bit from his duties in WWII.
I gathered that my father had been based at the Sandy Hook Coast Guard base for less than a year. As we drove out of Sandy Hook I learned he was based in the barracks in the next coastal town of Seabright as part of the Coast Guard beach patrol covering from Sandy Hook to Monmouth Beach. It appeared that these night patrols were in response to the landing of German agents off a submarine at Amangansett, Long Island: these agents were sent provisioned for acts of sabotage. Chuck was moved to Norfolk prior to his main deployment to the west coast and Pacific theatre. It was in California that he was present for the commissioning of a new transport ship, the Admiral C. F. Hughes (historic ship photo). He would serve the rest of the war on board this ship, built with the following specifications: 609 feet, over 20,000 tons, a top speed of 21.3 knots, and a troop carrying capacity of 5200. They carried troops both heading into and leaving battle across the Pacific for the remainder of the war. As I learned, Coast Guardsmen were put into action in what had traditionally been a Navy role.
A noteworthy mission was leaving San Francisco on May 26, 1945 for the Panama Canal, and east across the Atlantic to Marseilles, where they embarked troops for redeployment in the Pacific theatre. They recrossed the Atlantic, passed through the Canal in the opposite way, and then crossed the Pacific to land troops at Manila, arriving on July 20. My father recalled some other missions, though could not recall the names of those islands, though in my research the names included Leyte, Biak, Hollandia, and Guam.
My father did recall Guam, and a story I had heard became more meaningful on this day. The Admiral Hughes came into Apra Harbor at Guam on April 30, 1945, only retaken from the Japanese eight months prior. In fact when they left a few days later that had over 200 Japanese POW's on board. This anchorage was strategic in that it was the largest natural harbor in that area of the Pacific, and there were a number of other ships in the harbor on this day.  Soon after anchoring a message came down from the bridge, and had originated from a LST also in the harbor. It was a contact from Navy sailor Beau Rogers, my father's best friend growing up in Westhampton Beach, LI. He had recognized my father's ship, and asked if he would be able to come over for a visit. Receiving permission from the captain, my father used the ship's tender to make the trip across to the LST, which had sustained damage from a kamikaze attack. The two old friends talked for a couple of hours before returning to their duties. Beau would have spoken to Chuck as Homer, his middle name used by his boyhood friends. That chance meeting of these two friends on the other side of the world from their home struck me as astounding. I was as extremely grateful to learn about this part of my father's past as I was to share this most special solstice with him.