My passions for natural history, cultural history, and sailing came together in two books in the first decade of the twenty-first millenium. The subject of these books is the Lowcountry coast of South Carolina. Please review a description of these books below.
Where to buy these books.
 Awendaw: Sewee Visitor and Environmental Education Center. Sewee Outpost.
McClellanville: Village Museum.
Mount Pleasant:

Barnes and Nobles (Towne Centre).
Coastal Expeditions (Shem Creek).

Downtown Charleston:

Waldenbooks (Charleston Place).
Blue Bicycle Books (King Street).

Online: Amazon. Amazon – Bob Raynor books.
Tracing the Cape Romain Archipelago is now available as an e-book: Amazon (Kindle), Barnes & Noble (Nook), and Apple's iBookstore (iPad).
Tracing the Cape Romain Archipelago (2009)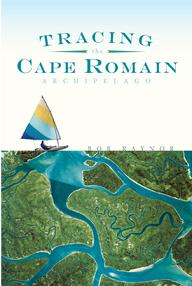 Between Myrtle Beach and Charleston lies the Cape Romain archipelago, which links with adjoining barrier islands to form a section of pristine, protected coast designated as a UNESCO Biosphere Rerserve. Local sailing enthusiast Bob Raynor, author of Exploring Bull Island, spent years weaving through the archipelago in his silent sailboat, Kingfisher. … His captivating, firsthand descriptions of the area, which is under threat from coastal development, offer a priceless glimpse into one of South Carolina's most important natural treasures. (From the back cover). To read the Prologue to the book click on the document below.
Prologue
Exploring Bull Island (2005)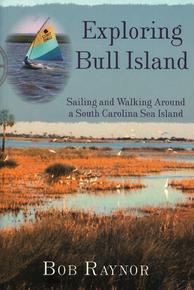 Situated along the South Carolina coast between Georgetown and Charleston, Bull Island is not just any barrier island, but has been described as the "crown jewel" of the Cape Romain National Wildlife Refuge. Though known for its matchless natural beauty, the human history of this isolated coastal isle has for the most part gone unexplored.
Exploring Bull Island: Sailing and Walking Around a South Carolina Sea Island is at once a personal and informative narrative, as well as a guide to the natural wonders of this storied and often mysterious Sea Island. Embarking on a quest to sail the island's connecting waterways and walk the aging roads and trails, accomplished sailor and nature enthusiast Bob Raynor set out to truly discover and understand the fascinating natural and cultural history of Bull Island.
Armed with a keen eye for his surroundings, a natural curiosity to discover the unknown, and his boat – the Kingfisher – Raynor guides the reader through the natural and historical passages of Bull Island. As the reader will discover, Exploring Bull Island is less a journey of time and distance, but rather an excursion through the pristine natural beauty and history of this truly unique Sea Island. (From the back cover).