I stepped out the front door for a walk within the confines of stay-at-home orders. One of the books I had checked out of the library before closures had a reference to Henry David Thoreau walking six miles to visit a tree, as if it were an old friend. I had a visit in mind to a tree perhaps two miles away with which I wished to make a better acquaintance. The beautiful spring, a dramatic contrast to the pandemic, continued to inspire an expansive nature study in my neighborhood.

Starting out on my neighborhood road, I left it to follow a forest track, originally the road leading to a local plantation. Live oak trees paralleled the path initially, and a deep drainage ditch flanked the other side, draining the forest lands once owned by the International Paper Company.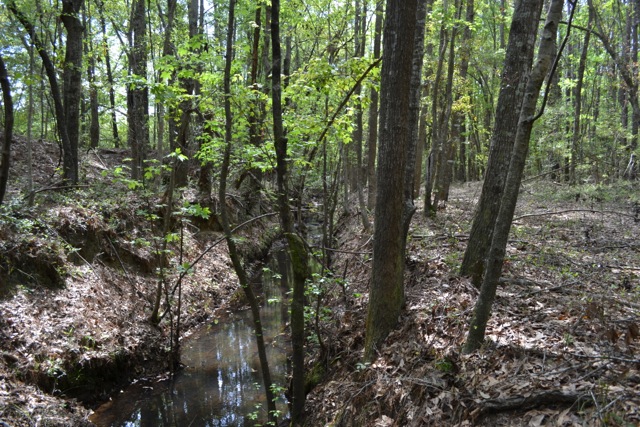 I ducked under fallen trees laying over the road, and when tripped by a ground-hugging vine recalled a fall on a winter day in Francis Marion National Forest, when my arc to the ground was arrested by a small tree stump. The memory was a good reminder to watch my step.
A pileated woodpecker flew off, its distinctive wing beat carrying it down the ditch. I turned off the old road onto a recently cleared power line easement.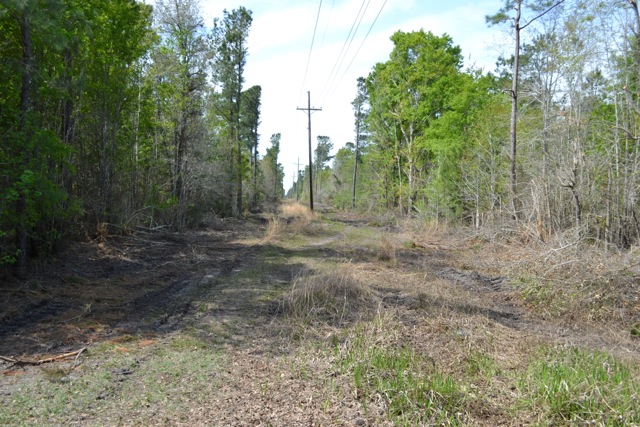 White-tailed deer ran off ahead; a shadow of a vulture signaled its flight overhead. I would later view multiple skeletal remains of wildlife picked clean by these winged recyclers. All along the easement the regenerated woods were packed tightly with loblolly pines. The machine that cleared this easement lay ahead on the road; its main cutting tool was a telescoping boom ending with a circular saw, a wicked-looking appendage.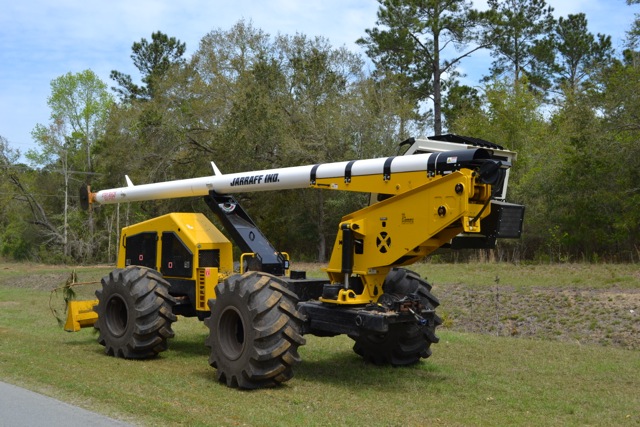 The easement opened up onto the main road leading into our community, and I crossed over to a wide open section of mowed ground. It was divided by a deep drainage ditch parallel to the road, and beyond was the next large tract of woods. This ditch and mowed areas are maintained by Charleston County, and spring was bringing the ditch to life with emergent grasses, ferns, and butterflies in flight.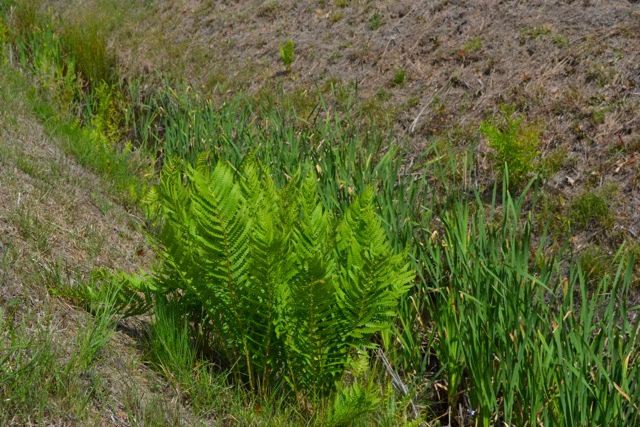 I walked along the ditch, eyeing the new life and searching for the narrowest place to jump the flowing water; my long jump has not gotten any longer these days. I scrambled down the steep ditch bank, made the jump, and ascended the other side using hands and feet.
Along the forest edge I sought that specific tree. The timber from this private large tract of land was harvested in the past ten years; the cutting regimen required leaving mature trees at intervals. This distance between mature trees was evident along this edge I walked, and most of the tall remnants were pines. I finally found the tree – a mature sour gum or black gum.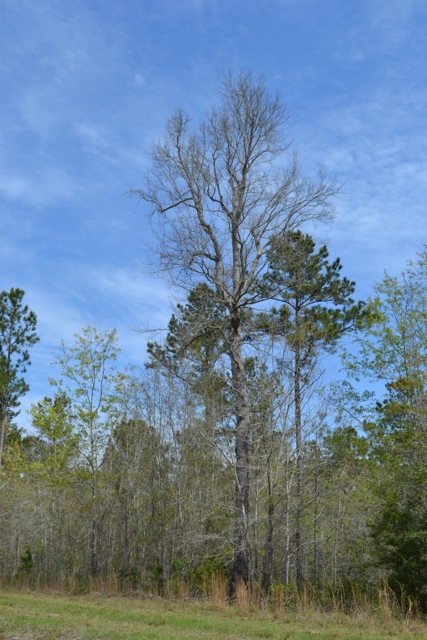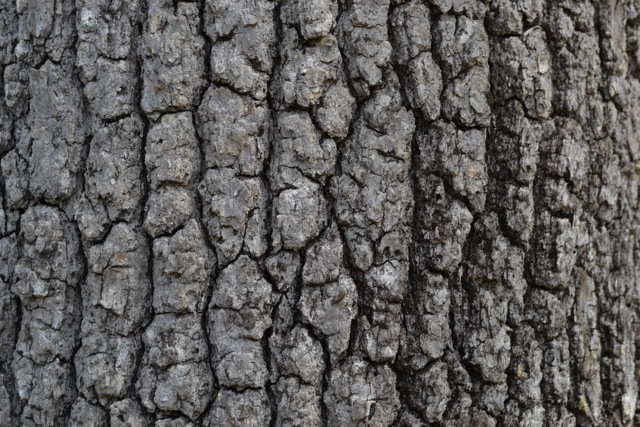 I had grown to know this species of tree through much smaller ones on my property, and its main distinction has been the autumnal color change of its leaves to red, a change taking place much earlier than other native trees. Interestingly, despite the fleshing out of new greenery on all surrounding trees, this black gum had not a single leaf yet erupting from buds.
As I took a closer look at this mature tree, a neighborhood friend, Maurice, slowed down from his run to chat with me and wonder what I was doing in this place off the beaten path. We were quite social distanced with the ditch intervening between us. I told him the story of looking for this tree that I have admired for some time from the road. This tree had first come to my attention years ago when it stood out with its fall splash of scarlet leaves along this forest edge. This past winter I spotted it without foliage and had noticed the unusual tangled major branches making up its top. I speculated this unruly top was the result of Hurricane Hugo's onslaught thirty years ago.
Maurice expressed his own affinity for trees and related his recent painful experience when the work of power line clearing in our community hacked up a live oak on the front of his property. This live oak was one that Maurice had carefully pruned for years. As we talked I looked more closely at the black gum and noticed its top was less contorted than what I had earlier seen. Looking down the forest edge about thirty yards I saw the sought-after individual.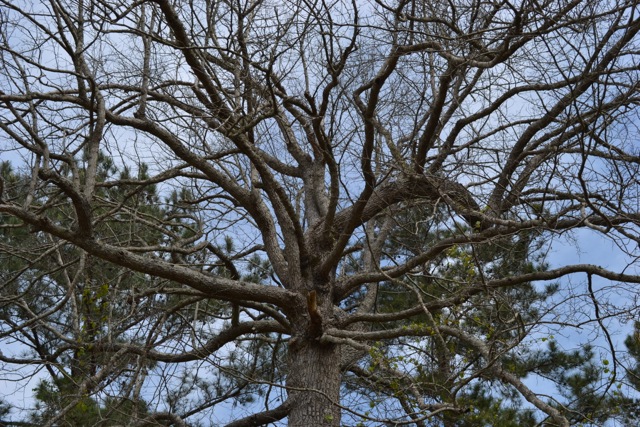 This tree acquaintance was like a person I had seen and passed for a period of time, recognizing but not contacting. Not a crush or romantic attraction, but an individual I wished to get to know. I had finally made the effort to make this tree's acquaintance. In searching for the reference of Thoreau's visit to a tree, I located the account in his Journal entry of October 31, 1858. The tree's fall color had attracted his attention, and he also noted it was perhaps the tallest tree of its kind he had ever seen. The walk to view the aspen took him a couple hours in reaching the woods of another town. He recalled how "All summer, and it chances for so many years, it has been concealed to me…"
I agreed with his final thought in the entry. "It is as if it recognized me too, and gladly, coming halfway to meet me, and now the acquaintance thus propitiously formed will, I trust, be permanent." It was weeks later on Earth Day that I viewed the leafing out of these two new acquaintances. I anticipate future visits and their fall scarlet display.