Five neighbors and I canoed in the waters of Wambaw Creek in late March. The waters of the Wambaw Swamp produce an early opening of buds in flooded forest, displaying a spectrum of greens. These swatches were reflected in the still and mirror-like waters of this Santee River tributary.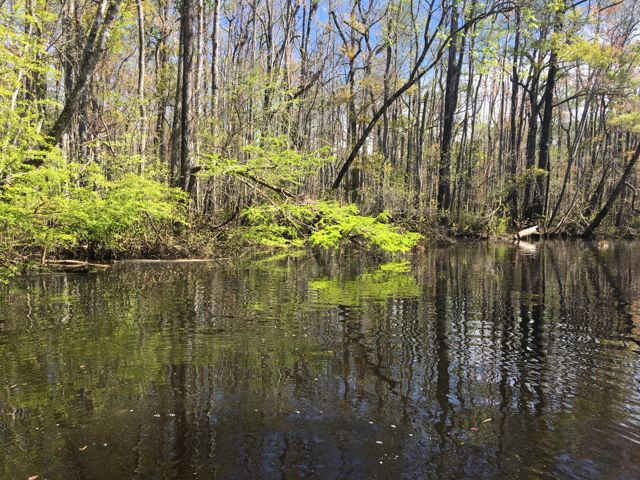 It was with much appreciation that I observed the signs of spring on my Awendaw property. Insects came out in force: the air was dominated by bumblebees seeking nectar from multiple sources. Several planted dogwoods gave their spring sign, as did others regenerating in the understory. The arrival of a group of American goldfinches at a new feeder was a highlight of our viewing pleasure.
On the way to my annual camping and hiking trip in Great Smoking Mountains National Park, I realized as I drove into the Piedmont and foothills of SC that I was entering areas of dogwood blooming, the spring apex for this phenomenon peaking weeks earlier in the Lowcountry. Once in the Appalachians, the blotches of white dogwood petals appeared throughout the mountainsides. It was the last week in April, and the wildflower bloom was continuing its progression. Having arrived at Great Smoky MNP's Deep Creek Campground on a Monday, we had plenty of choices for our base camp.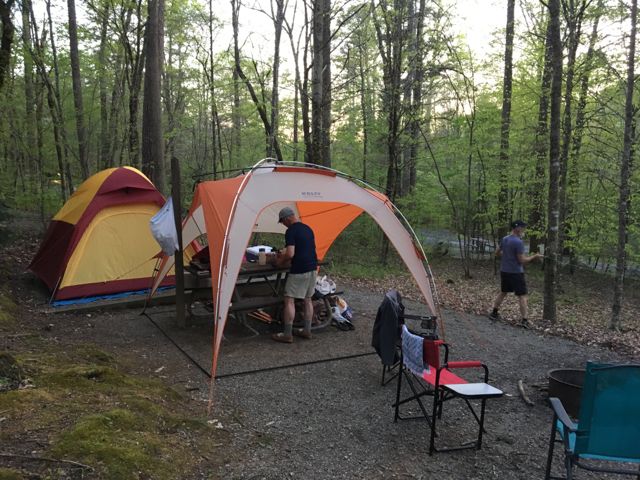 With clear skies and high visibility predicted for our first full day, we made the drive up to Clingman's Dome. The views did not disappoint, and we were able to see on the furthest eastern ridge Mount Mitchell 73 miles away (according to the signage.) Our main reason for driving to Clingman's was to access the Forney Ridge Trailhead located in the rear of the parking lot. The trail was as advertised child-friendly, and we were passed by a group of youth ranging from child to preadolescent, leaving their parents behind. We were to chat with the kids and their parents, all from NYC, along the trail and at Andrews Bald. At this elevation (starting above 6000 ft.) we passed through spruce fir forest, dead fraser firs still standing spectrally.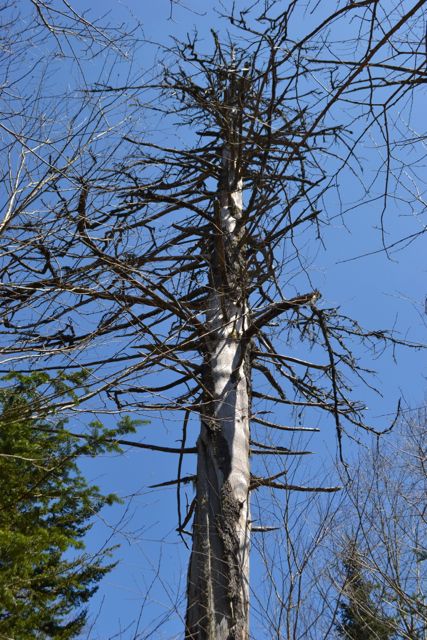 The views at Andrews Bald did not disappoint, and this warm day and location provided a great setting for lunch, and interactions with the NYC families and a couple from Chicago.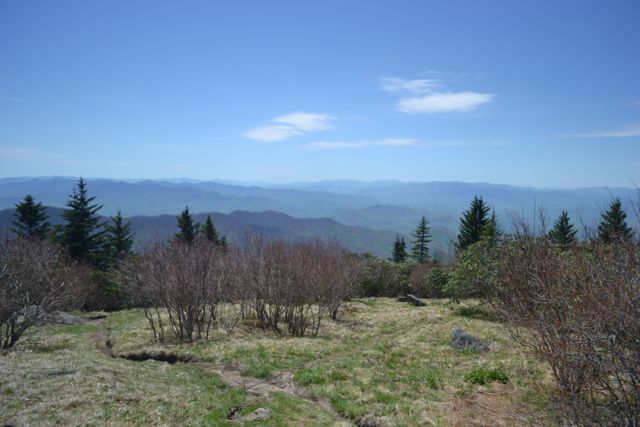 We were happy to make our escape from the crowded Clingman's Dome parking area upon our return, and even on a Tuesday cars were parked beyond the lot along the road for some way. We passed the trailhead for Noland Divide Trail, where we began our hike to Deep Creek campground the previous year (see From the Clouds). We stopped at the Spruce Fir Forest Nature Trail, and explored the short loop. We noticed the differences from the cove hardwood forest down in Deep Creek, including the lack of blooming spring wildflowers. Our return to our base camp put us back in spring with flowering dogwoods, and an array of flowers including the ubiquitous crested dwarf iris.
We were to see many flowering dwarf iris the following day as we drove out on the infamous Road to Nowhere to hike the Whiteoak Branch Loop.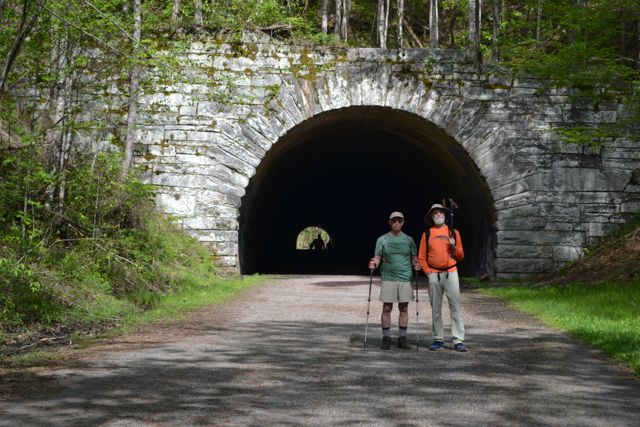 We did notice a few variants from the usual purple blooms, and my guidebook indicated the albino blooms we saw were rare.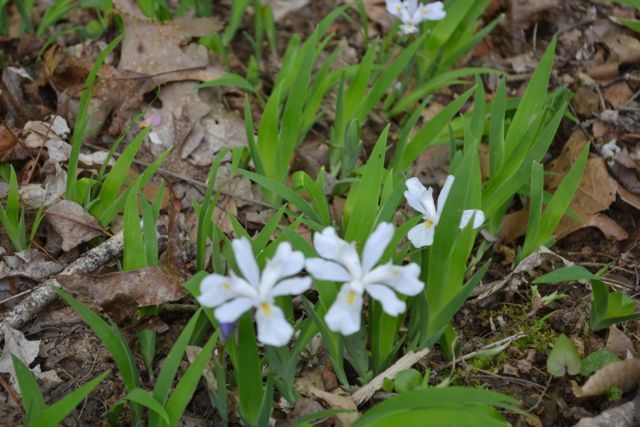 As we headed out along the Lakeshore Trail we came to one cove where the southern exposure along a tiny creek had a flame azalea in full bloom. This blossoming was an outlier – we saw no more during our days of hiking.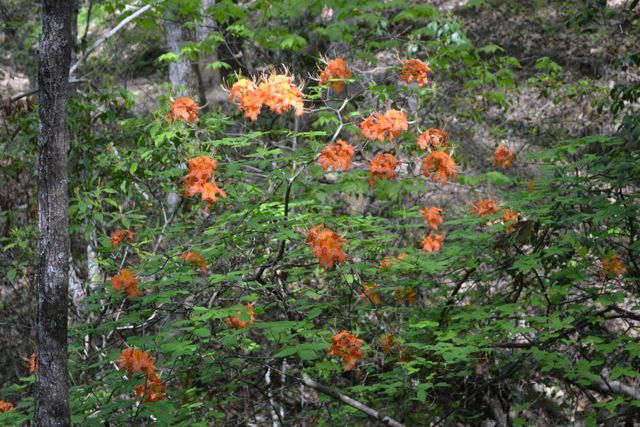 It did provide a dramatic trail marker, which we noted on our return. The blooming of these shrubs on Gregory Bald typically takes place in early June, and is reported to be one of those must-see Smokies events.
Spring is not just tracked casually; there are substantial efforts to follow the signs each year and over time, by government agencies, non-profit organizations, scientists and citizen scientists. A recent article by Steve Kemp looked at the impact of climate change in the Smokies, including the warming of springtime in the past several decades (Steve Kemp, "What's up with changes in the park's climate", Smokies Life Magazine, Spring 2019, Volume 13, #1). The National Phenology Network monitors the impacts of climate change in plants and animals in the US. It was noted that trees are greening up 15-20 days earlier in GSMNP than in recent decades. Synchronization of trees, insects, and migratory birds is out of kilter.
Our next hike day's hike we stayed in the 2000 to 3000 ft. elevations, heading up Deep Creek Trail, turning east on Martin's Gap Trail, and looping back down Sunkota Trail. The walk started out on a gravel road, and it took a few miles for the transition to trail. We left most people behind, but did see a couple of parties on up the mountain. Three equestrians were heading opposite down Deep Creek Trail, a notable meeting since we had seen these women the previous day on our Whiteoak Branch Loop. We also chatted with a fisherman at backcountry campsite #58. He and a friend were successful catching brown trout. We stopped for lunch at #58, known as Bryson Place, a frequent camp for Horace Kephart. Recent campers were clearly not practitioners of Leave No Trace. The hike back down Sunkota Ridge Trail was definitely on top of the ridge about equidistant from Noland Divide to the west and Thomas Divide to the east. It was a fine single track and quite undisturbed trail. Our full day hike was longer than anticipated, and we trudged through the last couple of miles on the way back to our camp, and the cooling waters of Deep Creek.
Back home in Awendaw, I took notice of other wildlife cycles. The feeding of monarch caterpillars on milkweed in my garden, and a hanging chrysalis under a table. The return of black skimmers gliding along the edge of the muddy flats with their lower mandibles plowing the waters for fish. What other wildlife cycles had not yet entered my consciousness, and were awaiting discovery?