There was a name for it – the rapidly developing snowstorm that brought the southeast a rare winter event, one more common for the mid-Atlantic and Northeast. My family and friends to the north will get their turn: the weather system named Snowstorm Grayson barreled up the coast, and morphed into a "bomb cyclone". The NPR article on this storm and the phenomenon "bombogenesis" is a good overview.
Here in Awendaw, I shoveled snow for the first time.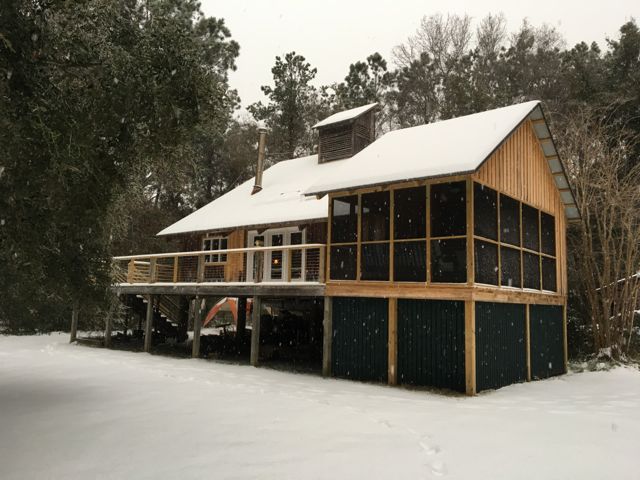 The storm's impact on the southeast helped me recall a memorable ordeal from my youth in a similar storm. Here is an excerpt from a 2013 post (if you missed this piece where I discussed storms including Hurricane Hugo and Superstorm Sandy, the full post was Storm Education).
One of the great adventures from my college years was a camping trip to the Outer Banks in February of 1973. We planned to camp in the dunes of Hatteras Island, though on the way to the coast we heard a radio report of inches of snow in Charleston S.C. It sounded ludicrous, and we didn't believe it. We arrived on Hatteras, and when we walked out on a path through the dunes at night we realized that the gale force winds would blow our tent away. We sought shelter at Nags Head, and chose to sleep on the downwind side of the porch at our friend's beachfront cottage. It was a wild night, and when we awoke after sunrise found snow drifting around our sleeping bags. The storm continued to rage, and we heard reports of several cottages washing into the ocean via the storm surf. It was time to retreat, and we began our drive back to Chapel HIll. What we did not know was that this storm had hit eastern North Carolina with the biggest snowstorm in memory. Our 6 hour standard trip stretched out to 12, and somehow but once again my old reliable '65 Chevrolet Impala "The Green Pig" got us home safely.
After all these years, I found an interesting report about the historic storm: The Great Southeastern Snowstorm: February 9-11, 1973. I had heard several stories over the years about the impact in SC, but the above report gives the full extent of the snowstorm that we had experienced in North Carolina. I just saw the rankings of the highest recorded snowfalls in Charleston, and yesterday's accumulation was #3. #1 was the December 1989 "the Hugo snow", and #2 was the above mentioned February 1973 snowstorm. While the snow ended yesterday, it appears that the Arctic air will maintain its grip on the Lowcountry (and much of the country) through the weekend. Without travel necessities, and without loss of power, I have been most grateful for the opportunities to explore the local winter wonderland on foot.